Kato Havas teaching DVD review
Here is a review of Kato Havas's teaching video published in an English folk music magazine, Fiddle On Magazine. Thanks to them, visit their website and you can subscribe to this interesting magazine.

The New Approach applies to

violin & viola

players of

all levels

and

styles

: classical, folk, beginners, professionals etc.


---
---
"A New Approach"on the causes and cures of physical injuries in VIOLA playing
Published by Kato Havas in 1991; reissued as a DVD.
Reviewed by Deborah Henderson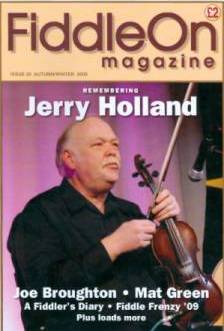 Kato Havas developed from a child prodigy in the 1950s into a highly respected string teacher with impressive endorsements from the likes of Yehudi Menuhin. Her method was developed in particular to handle tension and stage fright, and to encourage good tone from the start. For beginner or established player, fiddler and classical player alike, the re-issue of her 1991 teaching video gets to the basic causes of tension and injury in violin and viola technique. Taking as her starting point the easy, natural virtuosity of the Hungarian gypsy violinists, she shows in a clear, step-by-step manner how to develop a tension-free approach to the instrument and the bow, based on "Balance and Relaxation" - using natural body movements instead of the muscular contortions many of us remember from our youth!

The result is a released bow and violin hold which avoid a wide range of tension-related ailments such as tendonitis, bursitis and carpal tunnel syndrome. The end result looks (and don't let this deter the more classically oriented players) much closer to a "folk fiddler" handling of the instrument, which facilitates rather then inhibits real fluency.


---
Click on the picture for a bigger view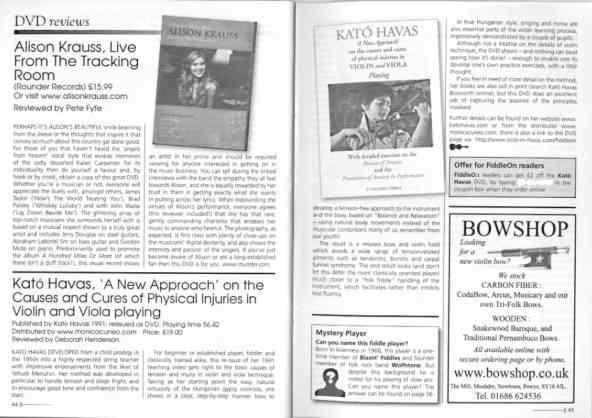 ---

In true Hungarian style, singing and mime are also essential parts of the wider learning process impressively demonstrated by a couple of pupils.

Although not a treatise on the details of violin technique, the DVD shows - and nothing can beat seeing how it's done - enough to enable one to develop one's own practice exercises, with a little thought.

If you feel in need of more detail on the method, her books are also still in print (search Kato Havas Bosworth online), but the DVD does an excellent job of capturing the essence of the principles involved.

Further details can be found on her website www.katohavas.com or from the distributor www.monicacuneo.com; there is also a link to the DVD page via http://www.viola-in-music.com/fiddleon


---




If you've enjoyed watching the videos of Kato Havas workshop, then you can't miss this teaching video on DVD. If you've ever been looking for it, you know that it is very difficult to find. Now from here you can get it easily and if you've read her books, you'll find this video great because you can actually see what's written in the books and it will help you to understand it much better.

To learn more about the New approach, go to this page on Kato Havas workshop and read Kato Havas's books.