Telemann Viola Concerto
  First ever composed?
and the viola
Buy Viola in Music's Collection of
13 famous tunes
Read more
Telemann viola concerto is a lovely work, quite well known also to non viola players, that is to musical lovers, as I discovered very pleasantly surprised. Although some players may snob at this concerto as "easy", it presents some challenges to both students and advanced performers, in different ways.

Georg Philipp Telemann, composer of probably the first viola concerto ever
It is probably the first viola concerto ever written, composed between 1716 and 1721 and the only Baroque viola concerto. Its composer, Georg Philip Telemann, was hugely prolific, one of the most prolific among Baroque composers. Contemporary of other great composers, he was born four years before Bach and Handel and died seventeen years after Bach and eight after Handel.

---
Beautiful gifts for musicians and music lovers, some free
---
Works for viola
This concerto is one of the 125 concertos written by him for one or more instruments, in addition to hundreds of other instrumental works, operas and church music.

Telemann also wrote some other works of interest for the viola, something unusual in the Baroque time, when the viola was used only for filling the harmonies. His other viola works are: a Concerto for two violas, the Scherzi Melodichi (a collection of trio sonatas for violin, viola and continuo), Polish dances for two violins and viola, 12 Sonatas playable on the viola or viola da gamba (as it was common at that time) and keyboard; other trios for flute or violin or horn or oboe and viola.

---
Instruments in Telemann viola concerto
Telemann viola concerto in G major is scored for viola, strings and continuo (2 violins, viola cello, double bass and harpsichord). It could even be performed with only the solo viola and a quartet!

In the whole concerto Telemann makes use of the full range of the viola (as it was used at that time), that blends very well with the string orchestra.
Movements
The concerto is composed of four movements: Largo, Allegro, Andante and Presto.

The short first movement opens with the orchestra introducing a quite solemn theme, then the viola repeats the initial part and enlarges and varies it. Then the viola goes through several keys, accompanied by the orchestra that also dialogues with it, through short theme fragments. After a short cadenza, the movement is concluded by the orchestra.
---
The second movement is obviously very contrasting in mood, an Allegro with an energetic theme, played by the orchestra, built on an arpeggio and repeated notes. The viola repeats only the head of the theme, leaving the strings to complete it, as they did before. Then the viola performs the whole theme, although "deviating" to C major. After this the viola starts doing more elaboration of the thematic material, that brings the orchestra to play the theme in the key of D major, followed by a  display of a series of arpeggios leading to the relative minor. When it seems that the movement has gone back to conclude in the original G major, the viola starts a run of scales followed by even more arpeggios ascending to a high G to finally arrive at the repetition of the theme by the orchestra, exactly as it was exposed at the beginning.
---
The third movement of Telemann viola concerto is the one I find most interesting. It is a melancholic Andante in e minor starting in a way that to me doesn't sound like the beginning of a movement, rather like the conclusion of a phrase (and in fact the movement later ends with exactly the same phrase).

The viola then introduces a proper theme, with an interrogative character, to me it seems that the viola is all the time asking questions and the orchestra tries to give some sort of answer. At some point the viola seems to have found an answer to all its questions in the key of G major and the music becomes more relaxed, but only for a short time. Soon there is a new question in the cadenza, leading to the conclusion by the orchestra, as it opened.

---
The fourth movement is in two parts with repeats, unlike the previous movements. Its character is the opposite of the previous one: this is a jolly, confidently affirmative Presto, there are no doubts in it.

The orchestra introduces the theme, which is simply a G major chord with cadenza, a descending G major scale and an ascending G major arpeggio. (See? no doubts, we are in G major!) followed by syncopated phrase. The viola takes it and varies it a bit by adding passing notes, to arrive to the theme in D major. A rapid passage by the viola leads to the syncopated second part of the theme and the end of the first half. The head of the theme is announced in D by orchestra, taken by the viola in e minor varying it in other minor keys to a minor. The orchestra continues in the same key, but the viola suddenly turns it into a major, happy key again, which will last to the end after repeating the fast passages seen before, concluding the movement in a robust tutti.
---
Buy Telemann CDs and sheet music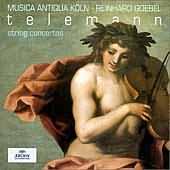 Telemann viola concerto. Buy CDs.
I think you'll agree that Telemann viola concerto is a very joyful and enjoyable piece, that should appear more often in concert programmes.
So if you like it and wish to listen to it on your best quality CD player, click on the picture here below so you can find a few recordings of it.
And for those viola players who'd like to enrich concert programmes by performing Telemann viola concerto, there are several editions to choose from.
Below here are some of them, from a digital version to download, to the Urtext (or original text), to play-along with CD, to versions edited by famous viola players.
Downloadable Sheet music
Printed sheet music
Concerto for Viola in G By Georg Philipp Telemann (1681-1767). Arranged by Wolff, Hellmuth Christian (1906-19??), Editor. For strings, harpsichord in score, solo viola in set.

Study Scores

. German: Baroque.

Set of parts

. Duration 11 minutes. Published by Edwin F. Kalmus (KM.A3267-STP)
...more info


Viola Concerto In G - Viola/Piano (Set of performance parts). By Georg Philipp Telemann (1681-1767). Arranged by William Primrose. For viola and piano. Baroque. Difficulty: medium. Set of performance parts (includes separate pull out viola part).

Solo part and piano reduction

. 20 pages. G. Schirmer #LB1973. Published by G. Schirmer (HL.50481381)
...more info


Concerto in G major By Georg Philipp Telemann (1681-1767). Edited by Milton Katims. For

Viola and piano

. Published by International Music Company (IM.401)
...more info


Viola Concerto In G Major (Concerto for Viola) By Georg Philipp Telemann (1681-1767). Edited by Karl Heinz Fussl. For viola and piano. Baroque. Difficulty: medium. Set of performance parts (includes separate pull-out viola part).

Solo part and piano reduction

. 20 pages. Published by Baerenreiter Verlag (BA.BA3712)
... more info
More editions of Telemann viola concerto... 

---
Go back from Telemann viola concerto to Viola concertos
Custom Search
---
---