Michael Kugel
virtuoso viola player and professor

Buy Viola in Music's Collection of
13 famous tunes
Read more
Michael Kugel is an astonishing viola virtuoso, although he is not as famous as he would deserve since there are virtually no recordings of his around. He has recorded about 20 discs and also made numerous records as a viola d'amore player as well. He made them in the former Soviet Union but now unfortunately they are not available.
I only found two CDs at the Israel Music Institute and some other works recorded by him are in some anthology recordings, and only one complete CD with his performances.
It is the CD you see here on the right, which includes the following recordings:
Giovanni Battista Martini, Sonata in a minor op.19 n.3 (original for cello)
Johann Sebastian Bach, Sonata n.1 in G major BWV 1027 (original for viola da gamba)
Niccolò Paganini, Sonata for Grand'Viola
Mikhail Glinka, Sonata in d minor
Franz Waxman, Carmen, Fantasie on the themes of Bizet's opera.
It's a very good CD, I recommend it to you, grab until it's available, click on the picture.
---

Beautiful gifts for musicians and music lovers, some free
---
Since I originally wrote this page, luckily more and more videos of Michael Kugel's performances have appeared on YouTube and a new CD or downloadable recording is available, see it on the right.
Anyway, I chose these two videos that you can watch here, where you can hear and watch him playing live two parts of his own orchestral arrangement of Shostakovich sonata (opus 147) with the Maastricht Conservatoire Orchestra and judge for yourself.
Part 1
Part 2
Michael Kugel was born on 5th December in the former Soviet Union. He studied violin at the Beethoven School of Music and at the Music College in Kharkov, later he studied viola, composition and conducting at the Leningrad (now called St. Petersburg) Conservatory.
In 1975 he won First Prize ahead of Yuri Bashmet at the International Viola Competition in Budapest. In the Soviet Union he was the soloist of the Moscow Philharmonic Organisation Mosconcert, violist of the Beethoven State Quartet and professor at the Moscow Tchaikovsky Conservatory.
From 1990 to 1996 he was a professor at the Jerusalem Rubin Academy of Music and Dance. In 1996 he settled in Belgium and now he is a professor at the Ghent Royal Conservatory (Belgium) and at the Maastricht Royal Conservatory (Holland). Michael Kugel has taken part in many Festivals and was a member of the jury for International competitions and has appeared as a soloist and also as a conductor with many major symphony orchestras in the world.
Michael Kugel attends and plays at Viola Congresses, teaches a lot, I found information about his international concert tours but not many CDs. He has given master classes in many countries and has written two books: History of an era - Viola sonata by Shostakovich and Viola Concerto by Bartók and Masterpieces of the instrumental music.
Michael Kugel has enriched the viola repertoire with many transcriptions and with his own compositions: Sonata-Poem for viola solo, Concerto for viola and orchestra, Suite in memoriam Shostakovich for viola and piano, sonatas etc. His compositions also include a piano sonata, chamber symphony and chamber music among others.
You can buy these books and sheet music from his composer's page.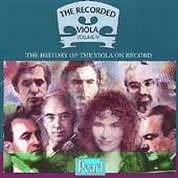 "The Recorded Viola" vol.4, anthology of viola music
Michael Kugel is the founder and the President of the Belgian Viola Society. He is a fantastic, very kind person, I heard him play at a viola congress in Glasgow in 1998 (Primrose's birthplace). He played his own transcription (from violin) of an extremely virtuoso piece, "Carmen Fantasy" by Waxman. You can find it in "The Recorded Viola" anthology CD you see on the right side. He also gave a wonderfully inspiring lecture about Shostakovich's viola sonata, Shostakovich's musical testament, it was his last composition, he must know every single thing about this sonata and Shostakovich's life!
Actually, he wrote it in his book History of an era - Viola sonata by Shostakovich and Viola Concerto by Bartók
I love his playing, he is one of those rare performers who make you feel that anything they play is extremely easy and he has a fantastic tone.
I wish I could grab some of his old recordings… maybe one day they will reissue them. Anyway, enjoy these excerpts. Here's a virtuoso piece, Hora Staccato by Grigoras Dinic.
---
Go to Prof. Kugel's performer page
Go back from Michael Kugel to Famous viola players
Custom Search
---
---