---
1.THE SHAME ATTACHED TO STAGE FRIGHT

2.THE SYMPTOMS OF STAGE FRIGHT
a. What is anxiety?

3.ARTIST-AUDIENCE RELATIONSHIP

If you ever wondered if it's only you, in this chapter you can read how nearly everybody suffers from this fear, maybe without admitting it, feeling ashamed of it. What happens when struck by stage fright (you may know it from personal experience, but it's useful to read about others as well), how the relationship between performer and listener is related to stage fright and what to do about it.


II) THE HUNGARIAN GYPSY VIOLINIST

Here is a description of the Hungarian gypsy violinist, his complete ease and physical well-being at playing, his only focus on giving pleasure to the listener. Kató Havas is Hungarian and in her childhood she met these extraordinary players and was fascinated by them. Indeed, many were fascinated by their artistry, including Liszt. Kató Havas always refers to them and was inspired by them in developing her New Approach.

III) THE PHYSICAL ASPECTS OF STAGE FRIGHT

1.THE FEAR OF DROPPING THE VIOLIN

2.THE FEAR OF THE TREMBLING BOWING ARM
a. The stokes

3.THE FEAR OF BEING OUT OF TUNE
a. The fourth finger

4.THE FEAR OF HIGH POSITIONS AND SHIFTS
a. High positions
b. Shifts

First of all, it's necessary to solve the problems concerned with the physical side of playing. So here, for each of these universal fears, there are causes and cures explained, together with practical exercises.

How to use the natural body balances and movements to get to master the high positions and shifts, have a flowing bow arm and in control, how to prevent stiffness in the weakest finger and all hand.

But don't just read it, do it!

IV) THE MENTAL ASPECTS OF STAGE FRIGHT

1.THE FEAR OF NOT BEING LOUD ENOUGH
a. Hearing
b. Listening

2.THE FEAR OF NOT BEING FAST ENOUGH

3.THE FEAR OF MEMORY LAPSE

4.THE POWER OF WORDS

5.THE POWER OF IMAGINATION

Causes and cures: tips to practice fast passages, how to learn a piece to

play by heart

,

which

words create a mental state of tension

, while others help to

create ease

and

flexibility

, so you know which ones to use when talking, teaching, even thinking about playing

. How to use your imagination for help with this and to create your musical communication.




V) THE SOCIAL ASPECTS OF STAGE FRIGHT

1.THE FEAR OF NOT BEING GOOD ENOUGH

Causes and cures:

I personally think that this is the most difficult fear to overcome, because even when you have got rid of the technical problems that made you insecure, still there is the fear of other people's judgement. This applies to many aspects of life, but it's especially true of playing an instrument, it's the identification of one's personal worth with the "goodness" of playing.

I personally think that another way to help reduce

stage fright is to try to

eliminate this attitude of fierce criticism, so prevalent especially among music students and no-longer-

students

. The more you criticize, the more you are bound to be nervous when your turn

to play

comes, especially in front of "friends" or people you know, because you are aware of what they would think of your performance and, what's worst, of you as a person. So, why not try and stop criticizing other players for every tiny mistake or other things? I adopted this attitude, "OK, that's the way he/she plays, it's their choice, it's not my job to judge other people's playing, it doesn't make me a better player so what's the point of criticizing?" By the way, I've found it useful not only for music, but for other situations, it makes me more tolerant of other people's faults and less worried about their judgement.

1.THE ART OF PRACTISING

2.SUGGESTIONS FOR EXAMINATIONS, AUDITIONS, COMPETITIONS, PERFORMANCES

3.THE SALIENT POINTS IN PRACTISING

From reading the whole book, you'll have seen that playing and practicing is more a matter of

mental attitude

, not a mechanical thing, it's about what we mean to do with it. Here is some general advice about how to practice (see why practicing itself can be a major cause of stage fright), prepare for performances. So change your attitude and you change the results. Read quotes from the famous violin player

Fritz Kreisler

, who was famed for not practicing much, see what he says about relying on muscular exercise only and about practicing before a performance.


---
Other things you can do
When I was working on this, I did all sorts of musical thing, quite unusual for a classical player, which could, in one way or another, be helpful in improving my playing: I started playing with folk players, in pub sessions, processions, learned to play by ear (and more..., you'll see later on), just to regain that genuine feeling of doing it for pleasure, without worries.

We get used to think that if we make a mistake it's a tremendous crime, so we focus our attention only on not making any error, forgetting the musical communication. Of course, it's nice not to make mistakes, but if that becomes your only concern, oh, what a boring drudgery!

One learns from mistakes, so, something else you could do to overcome stage fright, is find situations to play where you are allowed to make mistakes because people are not there to judge you but they are only willing to receive and enjoy your music. When speaking with my students or other players who say they get nervous, I advise them to go and play at their church during a function, or play at an elderly people's home or play for little children, easy things to make them enjoy it, have fun, tell them a story. Even if you make some mistakes, so, what's going to happen? They'd never notice it but they would love you for the gift of music that you can give them, they'd ask you for more music and this will help you to build confidence in yourself, in your ability to play and to communicate and you'll be able to play more and more demanding pieces.

Then you can go home and practice the passages that need improvement. And if you can play by heart, without reading the music, much better, so you can look at people right in their eyes, "

talk

" to them with music, smile. Start with something simple and enjoy it.

If you still need some practice in performing your piece in front of an audience before a big event, the final touch, for many the scariest thing you can do, is some busking. Yes, go and play in the streets, there you have an audience, the situation is challenging, it may be noisy, people coming and going, a lot of distractions, you may have to cope with the idea of "what will they think of me?" (but who cares what they think?), but if you can cope with this, then performing in any other situation will seem easier.

To conclude,

you can do something

about stage fright, without drugs,

improve

your playing and

enjoy

yourself when you play, feel the emotion of making and giving music to your listeners, cause emotions in your listeners.

Start giving your music to everyone, see the nice comments you might receive...

and people dancing to your music...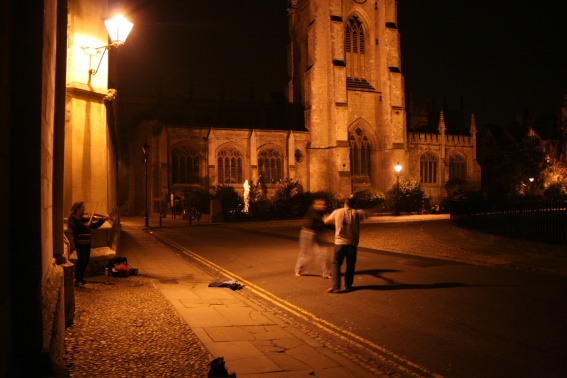 and you'll feel much more confident and able.
I found these books I mentioned very useful and if you have any doubts about how to solve some problems and so far you haven't found answers, I warmly recommend them to you!

Buy the book "Stage fright", read it and apply it, day by day. Then, if you want some more help and tips, get in touch, I do teach viola and violin. This is the way I teach and I see that my pupils have a nice tone from the very beginning, enjoy themselves much more, learn more quickly. Playing is not just doing all the right notes, as Kató Havas says:
"It is important to realize that our responsibility as musicians lies just in this - in the lifting up emotionally and aesthetically of all our listeners, regardless of whether they are examiners, auditioners, or members of an audience. If all our energies were channelled into giving people, through the medium of music, a deeper understanding of their own potential as part of the wonderful mysteries that the universe contains, we would not only do justice to ourselves as musicians, but stage fright would be banished from the face of this earth forever."
Good luck!

Come to my workshop: How to eliminate stage fright and musician's injuries

---
Find what you are looking for, use this search box

Custom Search
---
Learn more about Kato Havas

Go to How to play the viola

Go from Stage fright to Home page