The Rondo and some
examples on the viola
The rondo, or rondò in Italian and rondeau in French, is a musical composition where there is a recurring phrase (A), the refrain, very easy to remember, usually light and cheerful, alternated with several new phrases (B,C, etc), with diffferent character and mood. The structure of the rondo would then be A-B-A-C-A-D-A.
Probably thanks to its simplicity, from the 17th century the Rondo became extremely popular all over Europe and nearly all composers wrote some, either as single works or part of a larger composition. An example of rondò is the third movement of Stamitz's Viola concerto (click con the link to read more about the whole concerto) which you can listen to in this video.

The Rondo from Stamitz viola concerto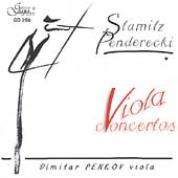 Here you can clearly see this form applied in a work and recognise the various parts. It is very simple indeed, you could learn it immediately and sing it along with them!
The solo viola introduces the A phrase, immediately repeated then by the whole orchestra. After this, the solo viola plays the B phrase, accompanied softly by the orchestra. Then you have the A phrase coming again, played exactly in the same way like at the beginning. Then in this movement the solo viola plays two more phrases, C and D, always alternated with the A phrase which concludes the movement as it started it. Click on the picture if you wish to listen to the other movements and get some free Mp3 files.
Another viola Rondo
Another examples of viola composition with a Rondo is by Carl Maria von Weber, the Andante and Rondo Ungarese (it can be found also written as Ongarese or Ungherese or Hungarian).Watch this video of Weber's Rondo performed live by Yuri Bashmet

Hungarian Rondo by Weber
---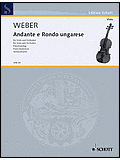 Now that you've heard it, if you fancy playing it, here you can find the viola and piano reduction as well as the full score and orchestral parts of Weber's Andante and Rondo Ungarese


---
Go back from Rondo to Glossary of Musical Terminology