The
Viola Clef
Buy Viola in Music's Collection of
13 famous tunes
Read more
The viola clef is different from the very familiar treble clef, used for violin and most other high pitched instruments and voices, and from the bass clef, used for low pitched instruments and voices.
Music for viola is written in what is called "C clef", which means that it indicates the position of the note C on the pentagram (five lines).
---

Beautiful gifts for musicians and music lovers, some free
---

In the viola case, the C is on the central line, a beautifully symmetrical position. The C clef may be placed on any of the lines and in the past it was used this way for the different singers' voices. The viola clef is a C clef placed right in the middle of the stave and was used for alto singers too, so its name is actually "alto clef".
Origin
The graphics itself originated from the letter C which in ancient times used to be written with a lot of curls typical of Italian handwriting style and that later has become what it is now.
The same thing is true for the other more famous clef,

the treble clef, or G clef, which is very familiar to everybody,

and the bass clef, or F clef.
2013: The Year of the Viola
The alto clef seems very suited to nominate the 2013: the year of the viola, so, happy year 2013 to all viola lovers, players, enthusiasts!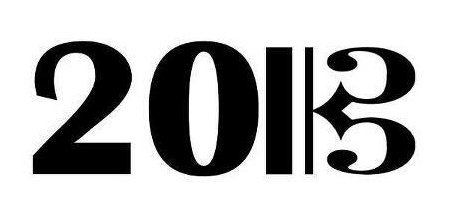 ---
Custom Search
---
Go back from Viola clef to Differences between violin and viola
---