Lionel Tertis
Famous Viola Player,
pioneer soloist
Buy Viola in Music's Collection of
13 famous tunes
Read more
It is thanks to Lionel Tertis if today the viola is taken into consideration as a solo instrument, there are a good number of international solo viola players, a lot of new compositions and many old works have been discovered and music lovers can enjoy all this music.
Tertis was the first, he started everything, he had the courage to challenge the status quo, the prevailing situation and change it. Second came William Primrose and then many have contributed to this in over a century.
During all his long life Lionel Tertis did innumerable things to promote the viola. He pestered composers to write viola music, gave concerts and lectures, did broadcasts and recordings. He did the transcription of Elgar's Cello concerto for viola, approved by Elgar who then conducted it in 1930.
He played in public the violin Chaconne by Bach on the viola, talked in favour of larger violas instead of the "small so-called" violas used at that time. He even designed a special viola model and seating plan for the orchestra!
He played with the most famous musicians of his time, conductors like Adrian Boult, Thomas Beecham, the violinists Eugene Ysaÿe, Fritz Kreisler, Primrose (before he switched over to the viola), the pianist Arthur Rubinstein, the cellist Pablo Casals and others.

---

Beautiful gifts for musicians and music lovers, some free
---
---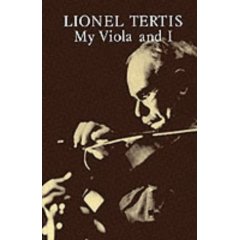 Most of what I learnt about Lionel Tertis comes from his autobiography, My Viola and I (another out print book but you can find it in second-hand shops, click on the title). Although he wrote it when he was 97 (he lived until 99!), from the very first lines I was very impressed because I could really feel the same enthusiasm for "the love and tyrant of my life – the viola" that he must have had at nineteen, when he played a viola for the first time. This had happened by accident, because another student wanted to form a quartet and since there were no viola students, suggested Tertis to play viola.
Going back to his biography, I'd like to emphasise what I admire most in Tertis: his determination, desire to do what he wanted to do and thought right to do, and the enthusiasm with which he did all he did. I also like his autobiography because it is a lively first hand description of London and the musical world between the end of the 19ᵗʰ century and the first half of the 20ᵗʰ century.
Lionel Tertis performs Brahms

Listen to a performance of Brahms's first sonata for viola and piano.

Consider that performing styles and recording equipments about 100 years ago were very different from today's
Youth
Lionel Tertis was born on 29 December 1876, exactly the same day of his "twin" Pablo Casals, who did so much for the cello. At a very young age, three years, he began to show appreciation for music and a desire to put his little hands on the family piano. So his parents called in a piano teacher and as a result Tertis made his first public appearance on a concert platform at six.
He went on studying piano but soon realised that he wanted to become a violinist and by the time he was twelve Tertis also realised that he needed to use his piano playing professionally to be able to have violin lessons and not to be a burden for his parents.
At thirteen Tertis left his family home (1889) to earn his living, after having consulted musical newspapers about possible musical jobs. (So young and already so determined and well organised!) He worked with several bands at seaside resorts, had many short time jobs, and in three years was able to save enough money to buy a violin, get some lessons and then enter Trinity College of Music in London.
As soon as he ran out of money for his tuition, he would go back to the usual newspapers to find new jobs as a pianist. Tertis continued this for some time, working as a pianist in all sort of places, going back to the college studying more violin, working again and so on...
Then he decided and managed to go to Leipzig to study for six months. Back in London, Tertis studied at the Royal Academy of Music and continued working, this time as a violinist. Initially his violin teacher didn't even think well of his playing! However Tertis' father didn't heed this opinion and the lessons continued.
"My mission in life"
When Lionel Tertis was nineteen another violin student, wishing to form a string quartet, suggested him to play the viola, there were no viola students at the Academy. So Tertis discovered what he calls his "mission in life", "the establishment of the viola's rights as a solo instrument".
Tertis soon became unsatisfied with his violin teacher, who couldn't teach him anything about the viola, so decided to continue to study by himself. He says he learnt to play mainly through listening to virtuosi, he never missed an opportunity to hear great artists.
Viola reputation before Lionel Tertis

In Lionel Tertis time viola's reputation was very bad. The general opinion was that the viola had no right to be heard as a solo instrument. Its cause was worsened because it was usually played by bad violinists who, obviously, played the viola even worse!
Also the only solo viola pieces known (to scholars, not to the general audience) at that time were Berlioz's  Harold in Italy and Mozart's (who played viola, by the way) Sinfonia Concertante for violin, viola and orchestra.
To prove that it was possible to achieve a good tone on the viola even in the high register, Tertis as a student performed the Mendelssohn and Wieniawski D minor violin concerts (transcribed for viola), at the Academy students' concerts. At this time he was still a violin student, practising the viola in his spare time.
Professional
At the end of the century, Lionel Tertis started working in a professional orchestra as a violinist first and then as principal viola, in his ex teacher quartet and was appointed professor of viola at the Royal Academy of Music. One day his ex teacher, Wessley, showed him a copy of Mozart's Sinfonia Concertante for violin, viola and orchestra and they eventually performed it in London, something quite unheard of!
The violinist Fritz Kreisler was just starting to appear and Tertis "fell in love" with his playing, following him wherever he played in Britain. One time Tertis even asked Kreisler to give him lessons. Later on Tertis would perform Mozart's Sinfonia Concertante with Kreisler. Still then, in 1924, the Concertante was unknown to most people, as newspapers reported after their concert.
New solo viola works
At the same time, Tertis started asking his friends young English composers to write music for him to play on the viola and this was the origin of a great number of viola solo works. The first ones were by Benjamin Dale, York Bowen and Arnold Bax who wrote a Sonata, a Duo for viola and harp, a Trio for flute, viola and harp and a concerto for viola and orchestra. Vaughan Williams wrote Flos campi and Suite for viola and orchestra, and many more.
Another work dedicated to Lionel Tertis was Walton Viola Concerto, for viola and orchestra, but Tertis did not give the first performance of it because at that time he didn't understand it. When Walton asked him about another viola player for it, Tertis suggested Paul Hindemith, who then gave the first performance.
Tertis was at the first performance and found Hindemith's playing all right but too cold, for him it was always very important to play in a very warm way, to put all vitality and emotional sensibility into the music.
1914-1918
During the First World War Lionel Tertis was called for military service but kept practicing and organising concerts for war charities. Among the many Belgian refugees was the famous violin player Eugene Ysaÿe, with whom Lionel Tertis played Mozart's Sinfonia Concertante. He spent also some time at the Belgian front, playing with Ysaÿe for the king and queen of Belgium and for soldiers in hospitals.


...to be continued
---
Go from Lionel Tertis to Famous viola players
Custom Search
---
---