Mozart Sinfonia Concertante K364

for violin, viola and orchestra
Mozart Sinfonia Concertante K364 is the highest example of this form, which was very fashionable in the early XVIII century.
This is one of my favourite works, I see it really like a concentrate of all of Mozart's character. It is so serene and joyful in the two fast movements and so deeply thoughtful, sad, in the central slow movement.
In the first and third movement many times the two instruments chase each other like two kids. Mozart gives the two instruments the same importance throughout all the work, they have a constant dialogue between them two and also between them and the orchestra.
The orchestra starts the game, a phrase, plays with it a little and then, when the soloists come in, they start a new game, with a new phrase. They pass it each other, keep adding new things, enjoying themselves and making the listener wonder what's coming next.
The score
I always like to study the orchestra score when studying a concerto. In Mozart Sinfonia Concertante the solo violin and viola have the violin and viola orchestral parts written out in their own parts, along with their solo passages. You can see the same thing in other contemporary works (like the Stamitz Viola Concerto and Stamitz Sinfonia Concertante for violin and viola). This suggests that the two soloists are acting more like they used to do in the Concerto Grosso, of which the Sinfonia Concertante was a development, linking to the solo Concerto of the classical era.
They were supposed to play in the Tutti sections and also as the Concertino.
Another reason for this, may have been that at that time the role of the orchestra conductor had not yet developed as we now know it today. Therefore the soloist had to "conduct" the orchestra from his desk, giving the tempo and this could be easily and better done by playing the same music with them.
The viola tuning
Mozart Sinfonia Concertante is in E flat major but for the viola Mozart chose to use a scordatura, which consists in tuning an instrument in a way which is different from the way it is usually tuned, for several reasons, mainly to improve the overall sonority of the instrument.
The composer writes something that then, because of the scordatura, sounds different (but it is right and sounds nice, of course!).
The scordatura was more commonly used in the baroque era, although until the XX century there have been examples of composers who used it. Just a few names: Vivaldi, Bach in his fifth cello suite, Paganini and Strauss for the viola in Don Quixote (in a different way).
So in his Sinfonia Concertante Mozart wanted all the four strings of the viola tuned a semitone higher than normal. The solo viola part is written in D major but with this tuning it sounds in E flat, as everybody else is playing. The instrument is more resonating because the open strings resonate, its tone is brighter, matching the violin tone and contrasting the two viola sections in the orchestra, with their warmer tone colour.
To me this is another example of how well Mozart knew and loved the viola, because he wanted to make it sound at its best!
---
See the solo viola part written in a different key
---
The orchestra
The orchestra for Mozart Sinfonia Concertante is composed of strings, with two different parts for violas playing divise (separate), with two oboes and two horns. This gives a bit darker, warmer colour to the composition, like the "enlarged quartets", that is the quintets that Mozart wrote, for two violins, two violas and cello.
Cadenzas
In Mozart's time, and before and after it, the composer who was always also a performer (like Corelli, Vivaldi, Beethoven, Paganini and many more), used to leave the soloist (himself) some space for the free improvisation after playing within a group, to show even more of his personality and technical and musical abilities.
Therefore, at the end of one or more movements, before the recapitulation, they used to write only one long note and often the indication Cadenza.
Some composers later wrote cadenzas for other famous composers' works (for example, Beethoven for Mozart's). This tradition continued until the beginning of the 20th century and so for most of concertos we don't have original cadenzas written by the concertos composers.
But there are always exceptions and one is here in Mozart Sinfonia Concertante.
Perhaps it would have been a bit more difficult for two soloists to improvise a cadenza together, (although they used to be very skilful in these things at that time, a bit like jazz players now), or for whatever other reason, anyway Mozart wrote not one, but two cadenzas for his Sinfonia Concertante for violin, viola and orchestra: one for the first and one for the second movement.
No need to say that they are beautiful, as well as all the work. They are also interesting because they give us a hint on how Wolfgang himself might have played a cadenza.
Watch this of the first movement cadenza, played by myself and a friend of mine.
Recordings
Mozart Sinfonia Concertante was not a well-known work until Lionel Tertis started playing it as part of his 'viola mission' and played it with Fritz Kreisler in 1924 and later with others and William Primrose playing violin, before Primrose converted to the viola.
By the way, in his autobiography Tertis strongly recommmends to play it in the original key, with the scordatura.
Since then, more and more performers have recorded it, making it more popular.
Editions of Mozart Sinfonia Concertante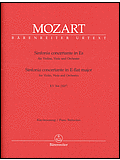 There are several edition to choose from, but my favourite one is this which comes with two viola parts: the original written by Mozart in D major, to be played with the scordatura, and the transcription in E flat. I always like seeing an edition which is as close as possible to the composer's intention, maybe a facsimile of the manuscript or the first edition, anyway an edition where is clear what the composer wrote and what the editor wrote. There is no autograph of the Sinfonia Concertante, but in this edition you can see some differences between the two versions, possible different fingerings and use of strings, and then choose the one you prefer to use for your study or performance. If you wish to buy this or another edition, click the link, you can find the piano reduction, full score and all orchestra parts.
An interesting transcription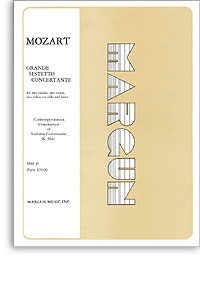 At the beginning of the 19th century, somebody thought it was a good idea to transcribe Mozart's Sinfonia Concertante for a sextet, to make it playable with a smaller ensemble, easier to put together than a full orchestra. Therefore now we are lucky enough to have a second version of this work, which is the Grande Sestetto Concertante for two violins, two violas and two cellos (or cello and double bass).
The composition is different in that is not for a violin and viola solo accompanied by the others, but all the players have the same importance, sharing the solo bits, apart from the second cello/double bass part which is a bit more like an accomponiment. The title is very appropriate then, it is a real sextet.
It's also interesting to look at it from the historical point of view (if you like this sort of study), to see how this piece was transcribed in 1808.
Then if you'd like to enjoy this wonderful work with a few friends and maybe perform it as a newly discovered chamber music concert piece (which actually is, since not very many know about it, or not yet), you can buy the sheet music here and make even more people know about this musical jewel. Good luck!
Watch and listen to the whole work
And to complete this page in a perfect way, here you can to listen to and watch the whole Mozart Sinfonia Concertante performed on the viola by Yuri Bashmet and Maxim Vengerov on the violin (another famous violin player who plays viola too!), conducted by Bashmet himself.
You'll love it!
Allegro Maestoso
Andante
Presto
---
Download Mozart Sinfonia Concertante K 364 for violin, viola and orchestra
Free full orchestra score Free MIDI file
and more free viola music
---
Custom Search
---
Go from Mozart Sinfonia Concertante to Sinfonia Concertante
Go from Mozart Sinfonia Concertante to Biography of Wolfgang Amadeus Mozart
---

Viola-in-music.com is recommended by the Encyclopaedia Britannica under its External Websites section.
---