Maxim Vengerov
and the viola
Buy Viola in Music's Collection of
13 famous tunes
Read more
Maxim Vengerov is one of the top violin players in the world, considered by many as the top violin performer.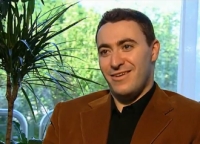 He was born near the Western Siberian capital, Novosibirsk, on 20th August 1974. His dad played oboe in the Symphony Orchestra and his mum was a singer and teacher, director of the orphanage there.
At four he began having violin lessons and soon studied seriously. The family went through hard times, Maxim studied hard and soon reaped the deserved results. He began his concert career a few months after first beginning and was still only ten when he won the Junior Wieniawski Competition in Poland.
---

Beautiful gifts for musicians and music lovers, some free
---
In 1990, at 15, he won the Carl Flesch Competition in London and soon concert engagements in Moscow and Leningrad followed, and he was appearing as soloist with many well-known orchestras as the Royal Concertgebouw Orchestra, the BBC Philharmonic and the USSR State Symphony Orchestra. In 1995 his recording of the Prokoviev and Shostakovich violin concertos won the "Best Record of the year" award. More of his recordings then received other prizes.
Besides his worldwide career, Maxim Vengerov also dedicates much time to teaching master-classes.
As a child, he was involved with his mum's work in the orphanage and he played and sang with the children there. He was brought up to care for those around him, particularly those less fortunate than himself, and he says something about this in a video (see below). In 1997 he was appointed Goodwill Ambassador for the UNICEF, watch this 20 second lovely video of Maxim playing his violin for children here.

Maxim Vengerov plays the viola
In 2003 Maxim Vengerov too fell under the spell of the viola, learned to play it and recorded Walton's Viola Concerto, conducted by Rostropovich. This CD received the 2004 Grammy Award for Best Instrumental Soloist Performance (with Orchestra) and was nominated for the 2004 Grammy Award for Best Classical Album. I like it, he has a great tone, indeed.
---
In the following video you can see him playing it at a rehearsal, maybe it was during the recording.
---
An amazing video
Then I found a really amazing interview video with Vengerov playing the viola in a concerto written especially for him, Viola Rock Tango Concerto by Benjamin Yusupov.
And he not only plays viola, he plays another instrument and does much more...
About the viola, here is what Maxim says in this video:
"Viola is a true discovery to me, every day I'm more and more in love with this instrument, it's a truly miracle partnership, viola and myself, I would never think I would get so close to the instrument."
When he says that, you can really feel that he means it, also about music in general and life.
Buy Vengerov's CDs
---
Go back from Maxim Vengerov to Famous violin players
Custom Search
---
---