Weber's Der Freischutz
and the viola
Buy Viola in Music's Collection of
13 famous tunes
Read more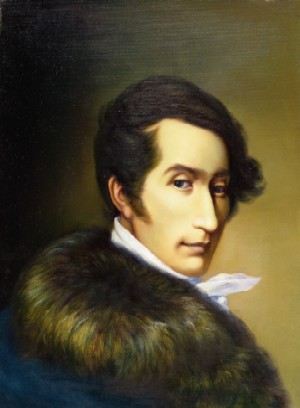 Der Freischutz is an opera by Carl Maria von Weber. In it, there is a Romanze and Aria accompanied all the time by a solo viola, something really unusual, before and after Weber. This piece is often requested at orchestral audition for principal viola. Listen to it here.
Carl Maria von Weber is considered the father of German opera. He was born on 1786, thirty years after Mozart. He was cousin of Mozart's wife, Constanze Weber and her sisters.
He was a composer, conductor, pianist and critic, and came from a musical family, with his father very active at organizing his own theatre company, composed mostly of members of his own family. With his troupe they travelled extensively in Austria and Germany. They had quite an adventurous and eventful life.

Carl Maria studied music with Haydn and his father tried to make him known as a second Mozart. He started composing early and at 18 he was working as a conductor in Breslau. He increased the level and salary of the orchestra but was also very demanding.

---

Beautiful gifts for musicians and music lovers, some free
---
After Breslau, they settled in Stuttgart where they became friends with the Kapellmeister Danzi. This period ended in a bitter way because of problems caused by debts and involvement in schemes organized bu others to avoid military conscriptions. Weber father and were even arrested and then banned from Stuttgart. They left to go to Mannheim with little more than recommendation letters from Danzi.
After this bad experience, Weber decided to maintain a higher fiscal and moral standard and started to keep a very accurate diary of his activities. He supported himself by selling his compositions and appearing as a pianist, touring throughout Europe.
In 1817 he arrived in Dresden and was given the task to organise a company for the opera in German. It was at this time that weber started thinking about composing Der Freischutz, which was premièred in 1821 in Berlin with a huge success. The opera was eventually performed in Dresden and at the rebuilt Dresden Court Theatre on 26 January 1822 making the German opera as popular as the most famous Italian operas had been until then.

Weber and the viola

Weber's music features very interesting viola parts, both the players and the listeners.
Weber composed interesting and challenging works for the viola. He had a brother who played the viola and this probably influenced the way he composed for it. Actually, for his brother Weber composed the Andante and Hungarian Rondo, which is a solo for viola and orchestra.
Six Variations on the theme A Schüsserl und a Reind'rl for Viola and Orchestra.
Both works are quite demanding for the viola player and are great concert pieces, a little known addition to viola repertoire.
I really love Weber's music, it's very rich in colours, full of contrasts and all instruments in the orchestra are used to create this variety. It's music good to listen to and to play, too. I think Weber would deserve to be bettere known and performed more often.
Der Freischutz
Der Freischutz is not actually an opera, it's called singspiel, the German version of opera. The main difference is that operas were usually in Italian all over Europe, except in France and England, and included arias and recitativos, which are a sort of melodic dialogues accompanied by chords played by the harpsichord (most often) or by the orchestra. In a singspiel, instead, dialogues are spoken normally, without any music. Besides this, the subject of singspiel draw inspiration from German tradition.

---
The story of the Freeshooter
Der Freischutz (The Freeshooter) features element typical of German Romanticism such as the forest, the huntsman, the intervention of supernatural powers and the devil.
It is the story of two men, Max and Kilian, who compete in a shooting competition to acquire the chief forester's position and to marry Agathe.

On the first day, Kilian wins while Max misses all his shots. However, Max will have a second possibility the following day, but if he fails he will not be allowed to marry Agathe.

A forester, Caspar, who had made a compact with the Black Huntsman Samiel and has little time left to live, suggest Max to use the dark powers to bewitch his gun and win. To prove Max that he can help him, Caspar gives Max his gun to try, saying that it has a magic bullet that never misses the target. Max shoots and kills a big eagle. Caspar tells Max that that was the last bullet he had but convinces Max to meet him at midnight in the forest, in the Wolf's Glen, to cast seven more bullets.
In the forest, Caspar is alone and, amid spells and a chorus of spirits, calls Samiel and offers Max to him in exchange for his own life. Samiel asks Caspar what Max wants and agrees to give him six magic bullets but the seventh one will hit the target that Samiel choses: Caspar suggests it will hit Agathe.
Samiel agrees to take Max's life and grant Caspar more time to live. Max arrives and, although horrified, with Caspar he starts casting the magic bullets.

---
Ännchen's aria from Der Freischütz
The next day, Agathe in her room is worried because she had a bad dream in which she was a white dove and when Max shot she was herself again but a bleeding black bird had fallen at her feet.
In this context, Ännchen, Agathe's cousin, sings this aria to reassure her that her nightmare should not make her worry. The viola initially creates a dark atmosphere following the description of the bad dream, but then plays a lively, lighthearted theme, when Ännchen suggests Agathe that a young girl who is about to get married should be happy and smiling.

Einst träumte meiner sel'gen Base

Original German text

Romanze und Arie

Einst träumte meiner sel'gen Base,
Die Kammertür eröffne sich,
Und kreideweiß ward ihre Nase,
Denn näher, furchtbar näher schlich
Ein Ungeheuer
Mit Augen wie Feuer,
Mit klirrender Kette...
Es nahte dem Bette,
In welchem sie schlief,
Ich meine die Base
Mit kreidiger Nase,
Und stöhnte, ach! so hohl!
Und ächzte, ach! so tief!
Sie kreuzte sich,
Rief nach manchem Angst- und Stoßgebet:
Susanne, Margaret! Susanne! Margaret!
Und sie kamen mit Licht,
Und, denke nur,
Und, Erschrick mir nur nicht!
Und, graust mir doch! Und,
Der Geist war: Nero, der Kettenhund!


Agathe wendet sich unwillig ab.


ANNCHEN
zärtlich
Du zürnest mir?
Doch kannst du wähnen,
Ich fühle nicht mit dir?
Nur ziemen einer Braut nicht Tränen!


Arie

Trübe Augen,
Liebchen, taugen
Einem holden Bräutchen nicht.
Dass durch Blicke
Sie erquicke
Und beglücke,
Und bestricke,
Alles um sich her entzücke,
Das ist ihre schönste Pflicht.
Lass in öden Mauern
Büsserinnen trauern,
Dir winkt ros'ger Hoffnung Licht!
Schon entzündet sind die Kerzen
Zum Verein getreuer Herzen!
Holde Freundin zage nicht!



English translation

Romance and Aria


Once my late cousin dreamed,
That the closet door opened itself,
And deathly white became her nose,
Then nearer, frightfully nearer crept
A monster
With eyes like fires,
With clinking chains...
It approached the bed,
In which she slept,
I speak of my cousin
With pale nose,
And groaned, ah! so hollowly!
And moaned, ah! so deep!
She crossed herself,
Cried out with such anguish and prayer:
Susanne, Margaret! Susanne, Margaret!
And they came with light
And, only think,
And, don't be terrified!
And, I shudder! And,
The ghost was: Nero, the watchdog!

Agathe turns away displeased



ANNCHEN
tenderly
Are you cross with me?
But can you say
I don't feel for you?
Only tears don't become a bride!



Aria

Sad eyes,
Darling one, don't suit
A blessed bride.
With her glances
She should refresh
And delight
And captivate,
And enchant everyone about her
That is her most lovely duty.
Within their bare walls let
Penitents mourn;
To you the light of rosy hope is beckoning!
Already the candles are lit up
For the union of true hearts!
Dearest friend, do not be downhearted.

Text and translation from www.aria-database.com

---
Final scene
At a hunting party, the two men have used their magic bullets. Max has the last one, the one that belongs to Samiel.
The shooting contest is about to begin.The prince chooses as a target a white dove on a branch. As Max aims, Agathe arrives and asks him not to shoot, because she is the dove. A hermit touches the branch and the dove flies to a different tree, where Caspar is hiding. When Max shoots, both Caspar and Agathe fall to the ground. Everybody thinks she is dead but instead Caspar has been wounded and dies as Samiel appears to him.
Max confesses what he had done and he is half forgiven, that is, he is given one year before he can marry Agathe. The opera ends happily with a hymn of prais to God for his mercy.

Der Freischutz Ouverture

Here you can listen to the Ouverture to get a feeling of the atmosphere of the opera and the way Weber uses the different instruments to create a variety of colours.

---
Buy Der Freischutz music

CDs, DVDs and sheet music

So, if you want to listen or watch the whole opera, here you find links to websites where you can buy CDs and DVDs and if you fancy playing this Romance and Aria, that can be performed just as a duo, you can find the sheet music in a collection of orchestral excerpts below.

| | |
| --- | --- |
| Der Freischutz: Groschel; Nielsen; Hartelius; Salminen; Seiffert; Harnoncourt; Orchestra and Chorus of the Zurich Opera House. By Carl Maria von Weber (1786-1826). Region: 0; Sound Type: PCM Stereo, DD 5.1, DTS 5.1; Aspect Ratio: 16:9. Classical. Blu-Ray DVD. With Language: German; Subtitles: Italian, English, German, French, Spanish, Chinese. Duration 159 minutes Buy DVD | |
Go from Der Freischutz to Blog
---
Custom Search
---
---