43rd International Viola Congress in Cremona
Workshop and Viola Orchestra

Buy Viola in Music's Collection of
13 famous tunes
Read more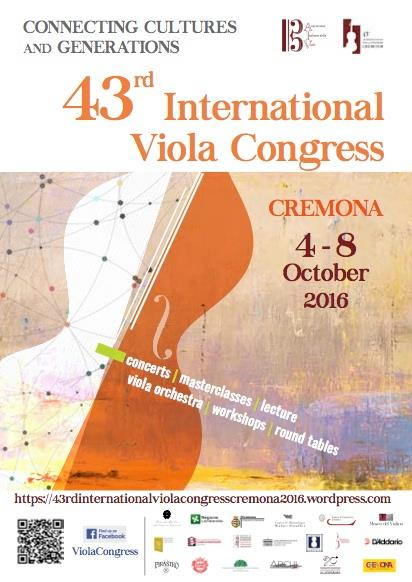 This year, the International Viola Congress this year was hosted in the beautiful city of Cremona, in Italy, where the viola and other string instruments were created. If you are not sure you know much about the history of the viola, read here.
The congress was organized by the Associazione Italiana della Viola, the Italian chapter of the International Viola Society.
It was a unique opportunity to meet many other viola players, including students, teachers an performers. There were many lectures about viola repertoire, workshops, masterclasses and concerts by some of the greatest viola players in the world, including Bruno Giuranna, Tabea Zimmermann, Michael Kugel.
Cremona, city of the violas

All the concerts were open also to all Cremona's citizens and visitors. I personally spoke to many of them who told me they greatly appreciated the viola and its more rarely heard repertoire.
The next Viola Congress will be in New Zealand.

Video of workshop on the Havas New Approach related to the viola
I gave a presentation workshop on "A New Approach to the viola", about the Havas New Approach, in relation to the viola.
Click to watch the video here, in Italian and English.

---
Contact me for workshops or private coaching, also online.

Click here to receive more information
---
---
Concert of viola-only orchestra
At the end of the International Viola Congress there was a concert performed by an orchestra composed of violas only, with works by G. P. Telemann, G. Bizet, F. Fiore, R. Wagner, F. Mendelssohn, G. Verdi and J. Strauss.
Who needs violins? Enjoy the concert

---
---
Go from IVC 2016 video to Home

---
Custom Search
---
---