Johann Joachim Quantz
and the Viola

Buy Viola in Music's Collection of
13 famous tunes
Read more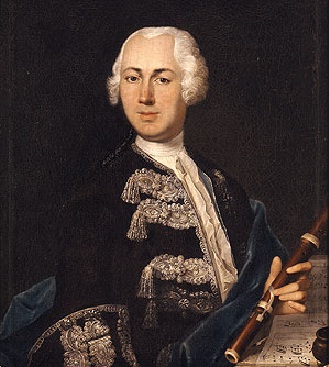 Johann Joachim Quantz was a famous German flutist and composer born in 1697. You will see here what he has to do with the viola. He started his musical studies as a child, then as a flutist he travelled Europe visiting Rome and Naples in Italy, Paris and London where he met Handel.

In 1728 the prince Frederick of Prussia (who will become Frederick II "the Great") started taking flute lessons from Quantz.
Frederick was a great lover and supporter of arts and of music in particular. In his court he created a chamber orchestra with the best musicians of the time, including Carl Philip Emanuel Bach.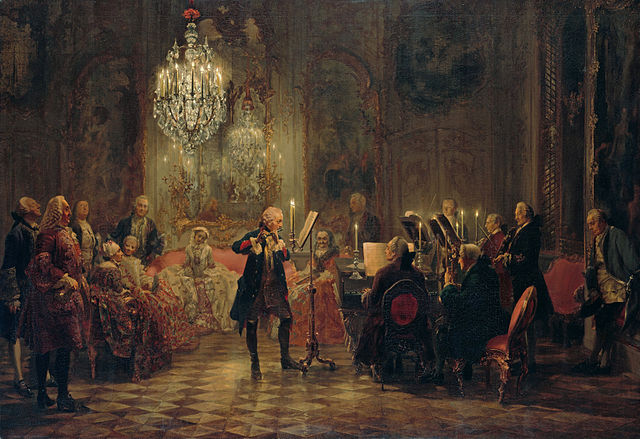 Flute Concert of Frederick the Great in Sanssouci royal palace
Painting by Adolf Von Menzel
Buy this poster
When in 1740 Frederick became king, Quantz was appointed composer, flute maker and flute teacher at the court in Berlin, where Frederick II continued to invite fine musicians.
The role of the orchestra was to accompany the king and entertain his guests, therefore Quantz and the other musicians composed a great number of works for flute, including flute concertos, trios and quartets, to be played by Frederick II, who apparently was an excellent flute player.
---
---

Beautiful gifts for musicians and music lovers, some free
---
However, Johann Joachim Quantz is best known today for a treatise he wrote about playing the flute: Versuch einer Anweisung die Flöte traversiere zu spielen, in English On Playing the Flute. It was one of the few works published in his lifetime, published in 1752 in German and soon later in French (Essai d'Une Methode Pour Apprendre a Jouer de la Flute Traversiere).

This work is nowadays a very useful source of information for those musicians who want to learn about performance practice and flute technique of the 18th century.

The viola in Johann Joachim Quantz's time

---
Besides instructions on playing the flute, Johann Quantz's text contains a wealth of information for all instrument players because it contains instructions on how each instrumentalist of the orchestra should play to accompany a soloist or play in an orchestra.

With regard to the viola, Quantz complained that the viola usually was considered of little importance in the music environment. This because viola players were often not very competent since the viola was often played by beginners or by those who could not play the violin (already heard this?). Then he gives some tips on how to improve.

Quantz's view of viola's role

Quantz says that, instead, a viola player should be as able as the second violinist. Therefore Quantz advises viola players to be more ambitious, so:

"they could easily improve their lot in a large establishment and gradually improve their position instead of remaining chained to the viola to the end of their lives"
Obviously Quantz saw playing the viola as a stepping stone to progress to a better position, but this was true in his times and for orchestras other than the one in Frederick II's court, composed of the finest players and the music Quantz composed for the viola required more than ordinary skills. Nowadays playing the viola is a reputable position in itself!
Talking about accompanying others:

...anyone who is a true musician takes an interest in the entire ensemble, without troubling himself about whether he plays the first or the last part."
Comparing the viola to other instruments:
"Since one viola, if a good and strong instrument, is sufficient against four or even six violins, the violist must moderate the strength of his tone... the violist must decide whether the notes he is to play are melodic or simply harmonic. The former he must play with the same strength as the violins, the latter a little more softly."
When playing in trios or quartet, the violist should:
"...carefully observe what kinds of instruments he has against him... so he can adjust his tone..."

---
Much of Quantz's advise is evergreen, although not that about not wanting to play viola all life! Viola players love it!

---
Buy Johann Joachim Quantz's treatise and music

So if you want to know more about music and the viola in Johann Joachim Quantz's time, here below you find links to websites where you can buy his treatise in several languages. You can also find sheet music and CDs.

---
Go back from Johannn Joachim Quantz to Blog
Custom Search
---
---