Antonio Bartolomeo Bruni
and the viola
Buy Viola in Music's Collection of
13 famous tunes
Read more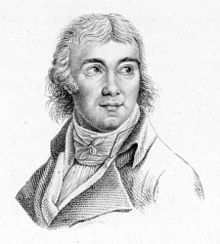 Antonio Bartolomeo Bruni was an Italian violinist, violist, composer and conductor. Although several sources still mention different dates (1757 and 1759), according to the most authoritative source (a biography published in 1931), he was born in 1751 in Cuneo, a town near Turin where he studied violin with Pugnani. He was born just a few years before Mozart and Alessandro Rolla.

In 1781 he moved to paris where he spent 35 years working as a violinist, teacher of violin and viola, composer and conductor of his own many operas and other orchestral works.

In France, following the revolution which he supported, he was also given the task of making an inventory of all music and instruments confiscated from migrants and condemned persons from noble households. He did such a good job that all the material collected was used to create a music library in the conservatoire.
After the definitive defeat of Napoleon, in 1816 he moved back to his native town where he died in 1821.
---

Beautiful gifts for musicians and music lovers, some free
---
Bruni's work

When teaching violin in Paris Bruni realised that there was a lack of teaching material for the advanced viola players or for violinists who wanted to learn the alto clef.
Therefore he composed several works especially interesting for the viola:
6 Sonatas for Viola with accompaniment of viola or bass

Concertante Duos, Duets

for violin and viola



Method for viola

including

25 Studies for viola

Bruni composed also ten books of quartets (60 in total), six books for a total of 36 trios for 2 violins and viola and more instrumental music.

The sonatas can be played as viola duos, or with cello or with harpsichord/piano, if they can realize the continuo bass line, as you can hear now.
The duos can be used also as teaching works for students or performed in a duo concert.

Bruni's method and studies

The Méthode pour l'Alto-viola, published in 1805, is Bruni's most important contribution to the viola repertoire and instruction. It is a method thought not for beginner but for those who can already play violin and need to familiarize with the alto clef and the instrument possibilities. As a matter of fact, the studies are technically demanding and should be used as standard by all viola students. They include extended passages with double stop and three and four note chords, scales and arpeggios even on the bridge, trills, string crossing, long legato passages.

Since the method was published, many more editions followed, with the studies often published separately.
I really love Bruni's music, it's written very well for both instrument with balanced roles and shows that he took care in writing for the viola.
I think violists could perform it more often, he deserves to be better known.

---
Buy Bartolomeo Bruni's sheet music
Go from Bartolomeo Bruni to Blog
---
Custom Search
---
---