Rebecca Clarke
A woman composer, viola player

and her music
Buy Viola in Music's Collection of
13 famous tunes
Read more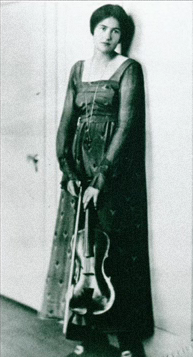 Rebecca Clarke is not well known nowadays because most of her music was not published and started being published only since 1998.
She was an English professional viola player and composer who composed several works  for viola, for herself or to play with friends.

She wrote her memories where she talks about her difficult realtionship with her father.

She was born in 1886, started to study violin at the Royal Academy of Music in London but stopped because her father withdrew her after a teacher proposed to marry her. Then she studied composition at the Royal College of Music in London, being one of the first female students of composition.
She did not complete her studies because her father banished her from home and cut all her funding. Since 1910, at 24, Rebecca had to support herself and did so by playing the viola in the Queen's Hall orchestra, being again one of the first women in the professional orchestra.
A few years later she moved to the United States and started travelling extensively, performing with her two brothers and later even doing a world tour of the British colonies.

Hers must have been quite a difficult life, being a woman and a composer and a viola player at the beginning of the 20th century and when the viola was just starting to be recognised as a solo instrument, thanks to the efforts of Lionel Tertis. Rebecca Clarke was also a viola student of Tertis's.
She spent her life between England and the United States and lived 93 years.
Works for viola
Being a woman didn't help Rebecca Clarke's career as a composer and her works were not published during her lifetime. This probably did not encourage her and contributed to the fact that she stopped composing around 1940s.

She initially made a career as a viola player, playing in orchestras, chamber music groups made of all women and as a soloist also for BBC broadcasts, then become well known as a composer thanks to her Viola Sonata, after taking part in a competition in 1919, although her work did not win.

She composed of good number of works, as you can see from the list below. Fortunately, more and more are being published now.
---
Buy Rebecca Clarke's music on CDs and
Sheet music to play it
If you wish to listen to more of Clarke's music find here a selection of recordings you can buy and if you wish to play some of her works click on the pictures to see some editions of sheet music.

Some works are suitable for intermediate, advanced players while some others are easier, like the Shorter pieces.
---
2 Lullabies for viola and piano
Lullaby on an Ancient Irish Tune for viola and piano
2 Pieces: Lullaby, Grotesque for viola (or violin) and cello
Morpheus for viola and piano (composed under the pseudonym "Anthony Trent")
Untitled work for viola and piano

Sonata for viola (or cello) and piano
Chinese Puzzle for violin (or viola) and piano
2 works for string quartet
Chinese Puzzle for flute, violin, viola and cello
Passacaglia on an Old English Tune in C minor for viola (or cello) and piano (tune attributed to Thomas Tallis)

Prelude, Allegro and Pastorale for viola and clarinet  
Dumka Trio for violin, viola and piano
I'll Bid My Heart Be Still (old Scottish border melody) for viola and piano

Sonata for viola and piano
---
Custom Search
---
---