The Sinfonia Concertante

and the viola
Buy Viola in Music's Collection of
13 famous tunes
Read more
Have you ever seen the term sinfonia concertante, or symphonie concertante, and wondered what kind of composition it was? You maybe tried to guess it, by combining the two words, sinfonia and concerto, and this is what I did when I first came across one of these compositions.
Indeed, it indicates a type of composition for solo instruments and orchestra. It means symphony with important solo parts, but it's more a concerto than a symphony.
The number of solo instruments could be from two up to nine. Initially they were mostly violins, then other string, wind and keyboard instruments were added.
---

Beautiful gifts for musicians and music lovers, some free
---
---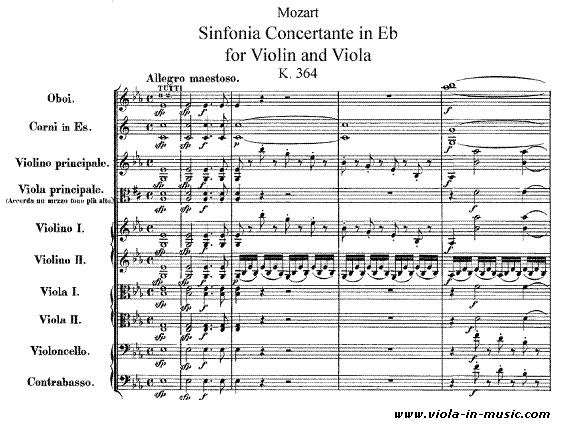 Some of the most beautiful music: Mozart Sinfonia Concertante for violin and viola (which he played) with orchestra. And the cadenzas are original. Listen and watch videos
---
The term and the genre was much in vogue between 1770 and 1830, for about two decades especially in Mannheim and Paris, where most of them were published. Therefore the proper name should be the French one, symphonie concertante, although the Italian version is more common today. Indeed very few Italian composers wrote symphonie concertante.
During the baroque period composers wrote solo concertos for more than one instrument, calling them just concerto for two (or more) instruments.
Anyway, the definitions of musical forms over the different musical eras are often blurred, with forms overlapping and extending beyond the "defined" periods.
The symphonie concertante was written for performance in public concert halls by local virtuoso musicians to please the concert goers with their own and other composers' pieces, brilliant, melodious and with a variety of instruments. It was a way for them to show their abilities, get more pupils, have more of their compositions published. With very few exceptions the symphonie concertante is in major key, its character is light, happy, entertaining, with melodic variety.
In a way it is similar to the concerto grosso, with the alternation between the soloists and the rest of the orchestra but in the sinfonia concertante the soloist have greater importance.
During the 1820s and 1830s the symphonie concertante became less and less popular. Important examples of multiple concertos are Beethoven's triple concerto for violin, cello and piano and later, Brahms' double concerto for violin and cello.
Sinfonia concertante and
double concertos with viola
A good number of symphonie concertante and double concerto included the viola as one of the soloists, from the baroque period to the 20th century. Here are only some of these works, which are published and available.
Johann Sebastian Bach wrote the Brandenburg Concertos and called them concerts avec plusiéres instruments ("concertos with several instruments") and the Sixth Brandenburg Concerto has the most unusual combination of instruments: two solo violas, with gambas and bass
Johann Gottlieb Graun wrote a Concerto in C minor for violin, viola and orchestra
Georg Philipp Telemann wrote a concerto for two violas and string orchestra
Michael Haydn wrote a Concerto for organ (or harpsichord or piano), viola and orchestra
Wolfgang Amadeus Mozart wrote a Concertone (which means 'big concerto') for two violins and, while in Paris, a double concerto for flute, harp and orchestra, a sinfonia concertante for winds and his wonderful sinfonia concertante for violin, viola and orchestra Sheet music 
Carl Stamitz wrote a symphonie concertante for violin, viola and orchestra

Karl Ditters von Dittersdorf wrote a symphonie concertante for viola, double bass and orchestra
Anton Wranitzky too wrote a Concerto for two violas and orchestra
Max Bruch wrote a double concerto for clarinet (or violin), viola and orchestra
Benjamin Britten wrote a recently published Double concerto for violin, viola and orchestra
Arthur Benjamin wrote: Romantic Fantasy for violin, viola and orchestra
Find here the sheet music for many different symphonie concertante with viola
---
Go from Sinfonia concertante to Glossary of music terminology

Custom Search
---
---