The viola history
from the 18th century
The viola in the 17th and 18th century in England
Let's continue our viola history from the
1ˢᵗ part
, the beginning, which I recommend you to read if you haven't done it yet.
The viola history in England doesn't show much interest for it by composers until the 18ᵗʰcentury.
Francesco Geminiani, Italian violinist and composer who spent most of his life in London, included the viola in the concertino in some concerti grossi he wrote. William Herschel, the astronomer most famous for the discovery of Uranus, wrote three viola concertos in 1759 (not published).
William Flackton did more: perhaps before 1760, he first wrote three sonatas for tenor and bass then another one, apparently following the success of his first publication.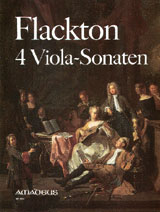 They are the first known viola sonatas published in England. In the preface, he says that the viola was nearly always given dull ripieno parts and "the present state of this fine toned instrument" was due to lack of solos.
He had asked in all London music shops and couldn't find any tenor (viola) solos published or heard of. So he decided to write and publish these works to "establish a higher veneration and taste for this excellent, tho' too much neglected instrument". Flackton viola sonatas are lovely indeed and published, for those who'd like to add them to their repertoire. There are several editions but the Amadeus edition contains all four.
Benjamin Blake published 6 duos for violin and tenor (viola) and 3 duos for tenor (viola) and cello.
Viola history in Austria and Germany in 18ᵗʰcentury
Some more interesting events for the viola occurred in Austria and Germany, from the 18ᵗʰcentury. The viola had been mentioned in treatises about violin playing, but they mainly described viola sizes, tunings, clefs, as there used to be parts written for alto and tenor violas.
In Germany and Austria there were several musical centres with
very good orchestras: Hamburg, Berlin, Mannheim, Vienna. There, very good music in general was produced and some solo viola music started to come. The viola started being used in operas also as a solo accompaniment to some arias, to achieve some special effects with its darker tone, there are examples by Handel.
The most significant event was the publication of Telemann Viola concerto, in 1731. It should also be remembered that around this time Bach had composed his Brandenburg Concertos, in 1721, although they were not published. Of these Concertos, Brandenburg 3 and Brandenburg 6 are wonderful works for the viola: the first, Brandenburg 3 scores 3 violins, 3 violas and 3 cellos playing individual parts; Brandenburg 6 is written for 2 solo violas, (no violins), 2 gambas, cello and continuo. Click on their names to read more about them.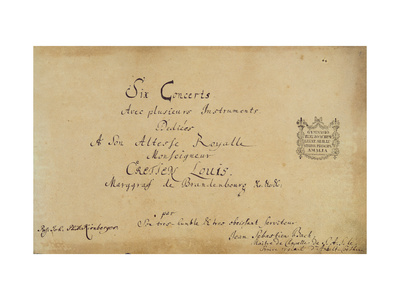 Frontispiece of the Brandenburg Concertos by Johann Sebastian Bach. Read about the special role of violas in two of them, the 3rd and the 6th. Bach played the viola
Frontispiece of the Brandenburg Concertos by Johann Sebastian Bach. Read about the special role of violas in two of them
The viola had been played, of course, and used in orchestral writing but in most cases it had beeen used the ripieno (filling), although its importance had been acknowledged in several treatises. However, we had to wait until these important works before we could see any solo viola works. Telemann Viola concerto is considered the first viola concerto ever written. Telemann used the viola in many of his works, he wrote viola sonatas that could be played interchangeabley on the viola or the viola da gamba (as it was normal at that time). He also composed a lovely Concerto for 2 violas (violette, that is, small violas) and string orchestra.

Viola history in Mannheim and Vienna
From the middle of 18ᵗʰcentury, in Mannheim there was a very good orchestra, famous and admired also by Mozart father and son. Many of its performers were composers too, and composed a great number of music for all instruments. Johann Stamitz, father, and his two sons are interesting reprentatives of this group. Johann was first a violinist in it and then became its conductor. He travelled to Paris where he performed on violin and viola d'amore. He also wrote a viola concerto.
In 1772, Karl Stamitz and his brother Anton, sons of Johann and members of the famous Manneheim orchestra, appeared in Paris as performers of viola and violin. Karl Stamitz, in particular, became famous as a violin, viola and viola d'amore virtuoso, perhaps the first known viola virtuoso and "free-lance" player (as we'd say today). In addition to the well known (at least, among viola players) Stamitz viola concerto in D, there are at least two more left, n.2 in Bb/A major (using scordatura) and n.3 in A major. Read more about Karl Stamitz and Stamitz viola concerto.
The whole Stamitz family was very important for the viola, as all of them composed viola concertos, sinfonie concertanti that included the viola, as well as viola sonatas and chamber music with viola.
In Berlin, at the court of Frederic II The Great (flute player and composer himself) many composers wrote works for viola: C. P. E. Bach, Graun, Benda, Quantz. Quantz wrote a treatise for flute where he explained how to play the viola properly, complaining that there were not many viola players who did it. Read more about viola concertos.
In Vienna
In Vienna the viola history becomes even more interesting: in the second half of the century the viola had been getting more and more attention in orchestral writing and chamber music compositions, starting with Haydn and especially with Mozart and Beethoven (maybe because, by the way, they played the viola themselves) and influenced many other composers. The viola in their duos, trios, quartets, quintets plays parts that have the same importance as the violins, they are no longer only a filling.
Just two examples of Mozart's masterworks are his Sinfonia Concertante for violin, viola and orchestra and orchestra and his Kegelstatt Trio,
Beethoven's practical knowledge of the viola no doubt inspired the way he wrote for it in his symphonic and chamber music works. One of these, the string Trio op.8, Serenade, was transcribed (by Beethoven himself or approved by him) and became the Notturno for viola and piano op.42. Many examples of Beethoven's special importance given to the viola can be found in Quintets op.29, Septet, Quartets op.59 n. 2 & 3 and more.
A less important piece, although very playful, is his Duet with two obligato eyeglasses, for viola and cello, most probably written for himself and a friend who played cello.
Several sonatas and concertos and other works for solo viola were written by Hoffmeister (also a friend of Beethoven's and first publisher of his works), Dittersdorf, Vanhal, Michael Haydn, Wranitzky.
18ᵗʰcentury in Italy
The viola history in Italy at this time doesn't show much interest by composers. Many of them were violin players who nonetheless, dedicated some attention to the viola as it was needed in the orchestra, publishing some educational books, not in Italy, incidentally (see below). However Bartolomeo Bruni composed 3 viola sonatas and several violin and viola duets; Giuseppe Cambini composed a viola concerto and many chamber music works with viola.
Luigi Boccherini, was a cello player, and spent most of his life in Spain. Of course he wrote many cello concertos but also chamber music works, quartets and quintets with demanding viola parts and a sonata for viola and bass.
The viola history in 19ᵗʰcentury
By this time, little by little, more and more composer had started writing music for solo viola in a way that took into consderation the special character of the viola's tone and of its expressive qualities, although this is not well known even among musicians.
Carl Maria von Weber had a brother who played the viola and his Andante and Hungarian Rondo for viola and orchestra was composed for him in 1809 (later transcribed for bassoon). Probably his brother's skills inspired Weber to later use the viola for a solo accompanying an Aria in his opera Freischutz, in 1821, something very unusual.
Joseph Schubert composed a viola concerto, Nepomuk Hummel composed several works for viola with piano and with orchestra.
In 1834, Hector Berlioz wrote one of the most famous works for viola, Harold in Italy, which is a symphony with solo viola, at Paganini's request.
Among the most famous works for viola and piano of this time, I mention Schumann's Fairy tales, Brahms 3 viola sonatas and songs with alto, the unfinished Glinka's viola sonata and the young Mendelssohn's viola sonata (who were viola players themselves) and the more demanding Anton Rubinstein's viola sonata.
Liszt transcribed Berlioz's Harold for viola and piano, leaving Berlioz pleasantly amazed at the exceptional result.
Educational compositions
Toward the end of the of 18ᵗʰ century some educational works for viola started to appear. In France three Methode were published: by Corrette, Cupis and Woldemar.
Composers had started to feel the need for educational music specifically written for viola, to make full use of its special tonal qualities with appropriate viola fingerings.
Other important works: Bartolomeo Bruni composed a Methode including 25 Studies, 3 sonatas and 20 violin-viola duets; Bartolomeo Campagnoli wrote 41 Etudes that have remained a standard in viola studies. Also Hoffmeister composed viola studies, 24 Etuden.
Alas, it seems to me that the viola history has seen many ups and downs, so later in 19ᵗʰcentury those works were not widely known, as most violin teachers were violinists and therefore they used violin material transcribed. Also, with few remarkable exceptions, the viola was considered the instrument for those violinists who were not good enough to play the violin. Playing the viola was not "fashionable", therefore there were not as many soloists and compositions as there were for violin.
However, especially from the middle of the century, several famous violin players played the viola occasionally, and many still do it nowadays, because they admired the viola's gorgeous tone and also wrote for it. Some names include Paganini, Spohr, Joachim and Vieuxtemps among others.
19ᵗʰcentury
In Italy, opera was dominating the musical scene in 19ᵗʰcentury, therefore there is not a significant tradition of symphonic and instrumental music from that time. However, as usual, there were some exceptions.
Particularly important for the viola history was Alessandro Rolla, who deserves a special mention as a viola virtuoso, viola teacher and conductor at La Scala opera house for long time. He wrote many concertos, studies, chamber musc works and was very important for the development of violin and viola technique. For a short time he taught Paganini, who later made extensive use of the technique that Rolla had started to develop. Alessandro Rolla's composistions are now getting rediscovered thanks to the many recent publications.
Nicolò Paganini, besides being the most famous violin virtuoso, loved the viola and wrote an extremely virtuosic piece for himself, the Sonata for Grand'Viola and orchestra, in addition to two trios and a guitar quartet with a very prominent viola part.
20ᵗʰcentury
to be continued...
Go to viola concertos
---
Incomplete bibliography:
History of the viola by Maurice Riley
New Grove Dictionary of Music and Musicians offline
---
Go from Viola history part 2 to Part 1
---